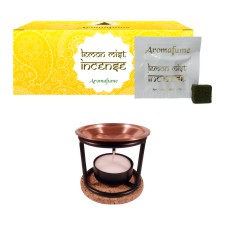 Aromafume Lemon Mist Incense Bricks (24 Pcs) & Free Exotic Incense Diffuser
Aromafume Incense Bricks Are Produced By A Family Owned Company Founded In 1900 With Lineage Extending Over 5 Generations In Incense And Perfumery Products. Each Incense Brick Is Enriched With Various Natural Ingredients Including Aromatic Woods, Exotic Flowers, Natural Barks, Tree And Tree Extracts, Resins, Leaves & Flowers. (Ash-Free + Minimal Smoke + Non-Toxic + Eliminates Odour) Aromafume Lemon Mist Incense With Fresh Lemongrass Notes Blends Energizingly With Citron, Herbs And Spices To Create An Aura Of Freshness. Lemon Mist Incense Conjures The Aroma Of A Grassy Knoll Within A Lemon Orchard, Sunlight Glimmering Off The Blades Of Grass. How To Use Incense Bricks With Exotic Incense Diffuser? 1) Light Candle. Place On Exotic Incense Diffuser. 2) Place Incense Brick On Copper Plate. 3) Allow Candle To Burn For 45-60 Min. 4) Blow Out Candle And Allow To Cool. Incense Brick Will Turn Deep Black And Hard On Usage. It Will Not Melt.More Long Lasting Than Agarbattis, Dhoop, Kapur, Camphor. Must For Every Pooja Kit. Use For Religious Ceremonies - Meditation - Home Or Office Fragrance - Relaxation.
* Price (Rs.)

and Points

are exclusive of shipping price.
* Images shown are for demonstration purposes only. The actual product may vary.
* Product displayed subject to availability.