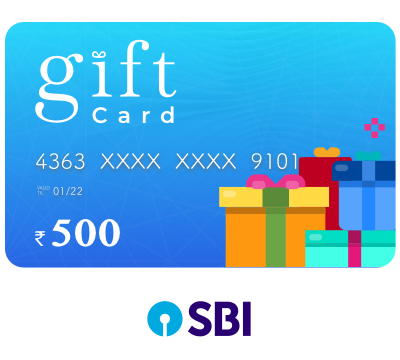 State Bank Gift Card - Rs.500
• This is a prepaid card in Indian Rupees issued on Visa platform • It can be used at POS(Point of Sale) in all merchant establishments with Visa logo • No cash withdrawal allowed to keep the "spirit of Gifting" • Loss/Theft/Damage of card can be informed to the SBI Rewardz Service Center & replacement card will be issued at a nominal charge of Rs.102, plus actual courier charges. If the Gift Card value is below Rs.700, points amounting to the re-issuance fee (Rs.102) and the courier charges will be deducted from the member's SBI Rewardz account. • Post confirmation of receipt of the 0 value Gift Card by the member, the card will be loaded with the equivalent amount redeemed and activated within two working days by SBI Rewardz. • SBI Rewardz is responsible for the number of points mentioned for redemption of each product in the rewards catalogue. • Reward Points shall be deducted immediately from the account when the member places the redemption request. • All redemptions requests will be fulfilled within 15 business days unless the delay is due to conditions beyond the control of SBI Rewardz. • Points for the returned products due to damage will be rolled back to the members account within 15 business days from the returned date of the product. • Redemptions done through SBI Rewardz.com or the SBI Rewardz Service Centre cannot be canceled, withdrawn or modified. • In case the member does not receive the redeemed Gift Card, he/she must notify the same by calling the SBI Rewardz Service Centre* within 25 business days from the date of redemption. • Reward Points are redeemable only against Merchandise, Vouchers, Gift Card or services as featured in the rewards catalogue. • Products offered for redemption is at the sole discretion of SBI Rewardz and is liable to change without prior notice. • SBI Rewardz also reserves the right to change and modify the terms and conditions at any point in time without prior notice to members. • In the event of any dispute between SBI Rewardz and the member on the gift item ordered, the decision of SBI Rewardz shall be deemed as final and binding.
* Price (Rs.)

and Points

are exclusive of shipping price.
* Images shown are for demonstration purposes only. The actual product may vary.
* Product displayed subject to availability.