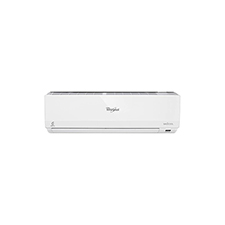 Whirlpool 1.5 Ton 3 Star 3D Cool Copper Invertor Split AC
Stay relaxed and cool with Whirlpool MAGICOOL 1.5 Ton Split Air conditioner. It features MPFI technology, 6th sense fast cool, PFC condenser, 2 way selectable air movement control and much more to make you feel comfortable. Performance The Whirlpool MAGICOOL 1.5 Ton Split Air conditioner runs on advanced Multi Port Fluid Injection (MPFI) technology that includes 4*4 evaporator circuit which enables in rapid heat exchange resulting in lower power consumption and improved cooling capacity. Its 6th sense fast cool technology's intelligent pre-programmed fast forward cooling switches the AC into action immediately and quickly brings down the temperature in the room within 30 minutes of operation. It features parallel flow condenser technology that allows you to experience efficient and effective cooling for a long time. The 2 way selectable air movement is designed to increase air circulation and to distribute air more evenly by swinging the unit's air deflectors in up and down and left and right directions automatically. Its Around U feature senses the temperature around you and adjusts the cooling accordingly to give you most comfortable home environment. The Turbo cool technology makes the AC works faster and cools quicker with minimal pulling of power and is employed for optimum output. In Eco mode, the AC uses less energy by cycling off the compressor and fan after the set temperature is reached. Its washable PP dust filter enables easy maintenance of the AC. It also features sleep mode, auto restart and self diagnosis function. Conclusion The Whirlpool MAGICOOL 1.5 Ton Split Air conditioner gives a cooling effect within seconds and gives a relief to you without wasting any time Installation is not provided by brand for this product as it is a plug and use product. For any queries, please reach out to us on our Toll Free Number: 1800-3000-9027.
* Price (Rs.)

and Points

are exclusive of shipping price.
* Images shown are for demonstration purposes only. The actual product may vary.
* Product displayed subject to availability.